What can and cannot go in your Red box - Plastic, Cans and Cartons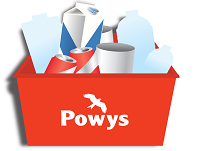 Please be aware if your recycling is mixed incorrectly then we will not collect it.
Yes please
Clean food and drink cans
Aluminium foil
Clean plastic bottles (rinsed, squashed and lids removed)
Plastic bottle tops and lids
Metal bottle tops and jar lids
Kitchen and bathroom aerosols cans
Clean plastic food trays
Clean pots and tubs
Clean cartons
No thanks
Polystyrene
Yoghurt pot lids
Cling film *
Crisp packets *
Electrical items *
Large plastic items *
Paint tins, oil cans *
Plant pots *
Plastic wrappers and bags *
Bubble wrap *
Mixed material - plastic items *
Pill blister packs *
* These items can be taken to your local household waste recycling centre.
Plastic film, such as carrier bags, vegetable and food bags, cling film, magazine wrappers etc can often be recycled at your local super market. Remember to take it with you next time you go shopping.
You should put your containers on the kerbside, just outside your boundary. All recyclable items should be placed loose in the boxes and not contained in plastic bags or other containers.
You can stack the boxes on top of each other to save space. If you think the containers will block the footpath please put the containers just at the boundary.
Remember to take your containers off the footpath as soon as you can after they have been emptied.