Working for Adult Social Care in Powys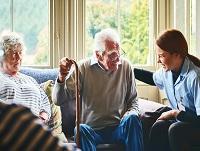 We support people to live the best life they can. By focussing on what matters we work alongside them to help find the right solutions.
Adult Social Care has a range of specialist teams who provide information, advice or assistance. We work in collaboration across Adult Social Care and Commissioning, Powys Teaching Health Board, the private and voluntary sectors.
If you're not sure what the right job is for you, we have more information in our job roles section. You can also read more about the advantages of working with us and the benefits available to you.
Vacancies
View some of our current opportunities below. You can find all our vacancies on our recruitment website.