Funding secured to support Nepalese families in the Brecon area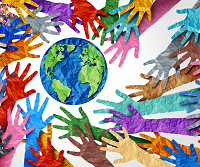 12 April 2022
Powys County Council have been successful in a bid to the Armed Forces Covenant Trust Fund to deliver the 'Embracing bi-lingualism with Service families' project.
The fund awarded £9814 as part of the Forces for Change programme 2022-23 to support local Armed Forces communities affected by isolation. The project will promote bi-lingualism with Nepalese families in the Brecon area.
The project starts this month and will run for a year. It will support the induction of families, workshops, drop-ins, resources and information for parents to understand the importance of bi-lingualism.
The project will be delivered by the school's service alongside, the Army Welfare Service, Infantry Battle School in Brecon and local schools.
To find out more about the Vulnerable Groups Team and how they support pupils and families with their education across Powys visit Vulnerable Groups Team - Powys County Council