Corporate Improvement Plan published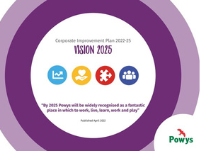 9 May 2022
The Council has published its Corporate Improvement Plan 2022-23 following a light review of key objectives and priorities
Chief Executive, Dr Caroline Turner, said: "We are pleased to announce this report, which is reviewed and published each year.
"Progress has been made in key areas despite the continuing impact of the COVID-19 pandemic. We continue to strive to deliver improvements, as well as ensuring our Corporate Improvement Plan remains realistic and achievable within the current financial climate."
Caroline added: "Following the local government elections last week, the next version of the plan will see changes and incorporate the new Cabinet's priorities. We look forward to working with Councillors and the new administration to make continual improvements for the residents, communities, and businesses in the county."
The Corporate Improvement Plan was approved by full council in March. ​​To view the report visit: Vision 2025: Our Corporate Improvement Plan