Recycle as normal over the jubilee weekend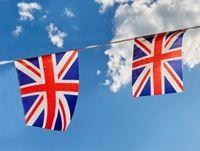 23 May 2022

Recycling and waste collections will not be affected by the Jubilee bank holidays, with collections taking place on both Thursday 2 and Friday 3 June as normal.
Whether you are hosting a jubilee street party with neighbours or planning on spending the four-day weekend tidying up the garden or tackling a DIY project, Powys residents will be pleased to know that they can continue to recycle their waste as usual.
Nigel Brinn, Executive Director Economy and Environment said: "Our intention is to collect all recycling and waste on the jubilee bank holidays, so if your collection day falls on either Thursday 2 or Friday 3 June, please put your bins and containers out for collection as usual.
"In addition, all our Household Waste Recycling Centres will also be open as usual and we would like to extend a big thank you to our hardworking crews and staff who will be forfeiting their celebrations to ensure we can continue to recycle our waste over the four-day weekend."
Residents are being reminded that they should put their recycling and waste out by 7.30am on their normal collection day and to check online for the Household Waste Recycling Centre opening times (Brecon and Newtown HWRCs are closed on Thursday and Friday, as normal): Bins, Rubbish and Recycling