Commitment of safeguarding professionals recognised in Safeguarding Practice awards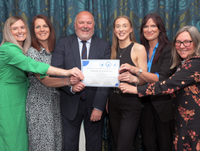 23 May 2022
The dedication, resilience and hard work of our safeguarding professionals has been recognised as part of a regional award ceremony.
The Mid and West Wales Safeguarding Boards for Children (CYSUR) and for Adults (CWMPAS) held its first award ceremony to recognise the contribution key workers have played in keeping the most vulnerable children and adults in our communities safe.
Five Powys County Council staff were shortlisted for their work across Adult Social Care and Children's Services with three receiving commendations for their work.
Zoe Horne, Wellbeing Worker in the Children's Services team received highly commended in the Exceptional Commitment Demonstrated to the Safeguarding of Children at Risk During COVID Restrictions category. Zoe was recognised for her work to relentlessly support a family during the pandemic and her expertise at enabling a child with complex needs to express and process their feelings following the sudden loss of a parent.
Jess Antrobus, Team Manager in Adult Safeguarding was highly commended for her Outstanding Practice Demonstrated in the Safeguarding of Adults at Risk. Jess has developed training resources to help practitioners and partners improve their understanding around safeguarding of adults at risk.
Powys Child Exploitation Team were highly commended in the category of Innovation and Creativity leading to Improved Safeguarding Practice for Children or Adults at Risk. The team have successfully facilitated a new multi-agency approach to better support children at risk of exploitation so that the young people and family members feel valued and empowered.
Ali Bulman, Executive Director responsible for Adult Social Care and Children's Services says: "I am delighted that the work of Jess, Zoe and the Powys Child Exploitation Team has been recognised in this way.
"The teams have been working under extreme pressure and their commitment to do the best for families and residents is absolutely amazing. A huge well done and thank you to all our staff for all that they do to keep the most vulnerable children and adults in our communities safe."
The ceremony was attended and addressed by the Deputy Minister for Social Services Julie Morgan, who said: "It's a great pleasure, and an honour, to be able to celebrate the Safeguarding Practice awards which recognise the hard work, skill and dedication of the recipients, especially given the extraordinary challenges the sector has faced since March 2020."