Rural Wales project celebrates success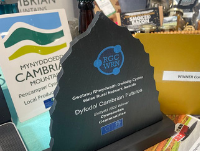 20/06/2022
A project to put Cambrian Mountains on the map scoops up a national award.
Dyfodol Cambrian Futures received an award for its achievements at a two-day event held at the Royal Welsh Showground.
The project was announced the winner of the Communities category at the Welsh Government Celebrating Rural Wales Event, celebrating the achievements of projects delivered within the Rural Development Programme for Wales 2014-2020.
The project, led by the Arwain, Powys County Council's LEADER programme and partnered by Ceredigion County Council and Carmarthen County Council was recognised for its work to support local businesses and communities.*
Its great work has raised the profile of the Cambrian Mountains as a tourist location and worked with local producers and tourism providers to support the development of sustainable and resilient rural communities.
Cllr David Selby, Cabinet Member for a More Prosperous Powys adds: "The Cambrian Mountains are very much at the heart of Wales, and it is wonderful news that this Cambrian Mountain project has received recognition for its work in developing tourism in this sometimes overlooked area."