Cancer events help join the dots for patients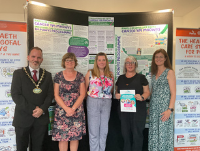 6 July 2022
Two drop-in information events aimed at providing support closer to home for residents living with cancer in the county have been hailed a success by the organisers - the Improving the Cancer Journey in Powys programme.
The project funded by Macmillan Cancer Support involves both Powys County Council and Powys Teaching Health Board as key partners. It aims to ensure that every Powys resident with a cancer diagnosis is offered a personalised supportive conversation with a trained link worker so as to explore and address their key concerns.
The events held in Brecon on Thursday 23 June and in Welshpool on Monday 27 June each saw between 30 - 40 people drop in to seek advice, information, and support about their cancer diagnosis, worries and their needs.
Visitors were given an ICJ goodie bag containing literature about the programme and were able to listen to talks and speak directly to a range of professionals. These included Dr Ruth Corbally, Lead Cancer GP for Powys, Louise Hymers, Lead Cancer Nurse, the dietetics service from Powys Teaching Health Board, the council's Money Advice Team and the Assist service for adults.
Powys Libraries staff also brought along a display of books about cancer that are available to loan and Blood Bikes Wales who deliver specialist cancer medication to Powys residents brought their stand and bike. Powys Community Health Council who advocates for patients of health services were also present.
Dylan Owen, Head of Commissioning at Powys County Council, who attended the Brecon event said: "Several Powys residents have already told us that their cancer journey is like being on a roller coaster or a conveyor belt. It can often be both confusing and overwhelming, with an array of tests and hospital appointments to contend with, all of which require travel out of county. Once back home, people don't quite know where to turn for help with things like dealing with work issues, managing feelings of anxiety, or paying the bills. Equally many may like some extra help with picking up prescriptions, shopping, gardening, or household chores because they are feeling tired/fatigued by their treatment. The ICJ programme can help with all of these things, so if anyone was unable to attend the events and would like support please do get in touch with one of our delivery partners."
Richard Pugh, Macmillan Head of Services in Wales, said: "Face-to-face events like these two held in Brecon and Welshpool, provide an invaluable and supportive environment where people with questions about cancer can get informed answers and also be directly signposted to the available support in their communities. Both events were upbeat and really well attended and a great example of how several organisations within Powys are working together to support people living with cancer."
Meinir Morgan, ICJ Programme Lead said: "Our key delivery partners for the programme are the Bracken Trust, Credu and the community connector service run by the Powys Association of Voluntary Organisations (PAVO). All three have signed up to the programme and were at both events. They have officers specifically trained to provide tailored support using Macmillan's supportive conversation known as a holistic needs assessment (HNA). Please do get in touch if you'd like support.
She added: "I'd like to thank everyone who played a part in the two events - the choir, the local therapist who gave hand massages, and anyone who donated a prize. Also, the two hospital trusts - Wye Valley and Shrewsbury and Telford - who we are making strong links with because a large percentage of our residents are referred to them. In particular I'd like to extend my final thanks to our forum members - two of whom shared their cancer stories but all who contributed on the day and who offer the programme valuable insights that keep us focused on the person living with cancer who are at the heart of what we are trying to deliver in Powys."
Powys Teaching Health Board's specialist palliative care teams are also a key partner. They receive referrals directly from hospital trusts or GPs. The ICJ team also attended the Bracken Trust's summer fete held on Saturday 25 June, gave out goodie bags and spoke to several people with a diagnosis who have agreed to share their cancer journey with the team.
Residents can find out more on the ICJ website: https://www.powysrpb.org/icjpowys To access support residents can self-refer to PAVO on 01597 828649, the Bracken Trust on 01597 823646 or Credu if caring for a family member/friend with cancer on 01597 823800.