The Recruitment Process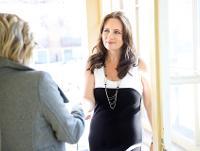 Search and apply
Search for your perfect role via our jobs page on our website (https://recruitment.powys.gov.uk/ ). Once you've found a job to suit you, you will need to fill out our online application, it's simple, just follow the process step by step. Once submitted, we will email you to let you know we've received your application.
Shortlisting and interviews
Once the vacancy has closed, the recruiting manager will shortlist the applications. If you have been successful, you will receive an email inviting you for an interview.
So, keep an eye out in your inbox!
Feedback / Job offer
Following the interview, the recruiting manager will contact you to give you feedback and let you know if you have been successful. They will offer you the role verbally subject to pre-employment checks being carried out.
If you were unsuccessful for the role, you can request feedback by emailing recruitment@powys.gov.uk
Pre-employment checks
Once we have offered you the job, we need to carry out a few pre-employment checks. It may sound a bit daunting, but we just need a few references, and in some cases DBS and medical checks. Make sure you monitor your emails so there is little delay.
Great news - once your pre-employment checks are back, you will receive a contract and a start date.
Welcome!
We look forward to you joining our team.