Old Market Hall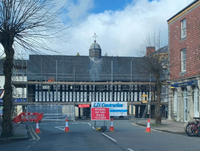 14 March 2023
The first phase of work on the Grade I listed Old Market Hall building in Llanidloes is nearing completion, Powys County Council has confirmed.
The scaffolding will be removed and the roads re-opened as usual on Friday 17th March 2023.
Cllr Jake Berriman, Cabinet Member for a Connected Powys, said: "I recently took the opportunity to visit the Old Market Hall with local Councillor Glyn Preston to review progress and am delighted to announce the completion of the first stage of works and thank all residents and businesses for their co-operation.
"Due to the additional works we have identified, we have unfortunately not been able to complete all planned work on the building. Given this, and to minimise disruption through the tourist season, we have postponed phase 2 of the works until Autumn 2023 and, we will provide further updates in due course."
The road closure on Shortbridge Street, due to begin this month, will also be postponed until the Autumn for the phase 2 work.
Both internal and external repairs are being carried out as part of the work on the historical building.
Powys County Council is responsible for the 16th century structure and Mid Wales based Hughes Architects have been appointed to manage the works which started on site in January.