High Sheriff of Powys hosts special Ukrainian celebration event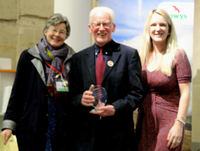 21 March 2023

Individuals, local businesses, voluntary and community group who have supported and welcomed Ukrainian people into Powys have been recognised at a special celebration.
A Celebration of the Support of Powys to the People of Ukraine, which was hosted by the High Sheriff of Powys, Tom Jones OBE, was held at Brecon y Gaer on Wednesday, March 15.
446 individual Ukrainians have come to Powys with 248 Ukrainians still living in the county as part of the UK Government's Homes for Ukraine scheme, which saw the Welsh Government act as a Super Sponsor.
As part of the event, invited guests and dignitaries heard from guest speakers including:
A video message from Ivan Slobodyanyk, Executive Director of the All Ukrainian Association of Communities
Elizabeth Daniels who shared her experiences of hosting a family of Ukrainians
Iryna Yemets and Maryna Korolov who shared their experiences of resettling in Powys
Ruth Marks, Chief Executive of Wales Council for Voluntary Action, spoke about the Wales-wide support given to Ukrainian guests.
However, the main part of the event saw the High Sheriff of Powys and the Leader of Powys County Council, Cllr James Gibson-Watt, present special recognition awards to those in the county who have made extra special contributions to supporting Ukrainians and Ukraine.
The special recognition awards went to:
The Reverend Richard Wootten
Igor Sydorov
Andrea and Rohan Murdoch and the Hotel Commodore
Hay, Brecon and Talgarth Sanctuary for Refugees and Crickhowell Supports Ukraine
Jane Morgan
Sarah Shuffell
PAVO - On Behalf of the Voluntary Sector in Powys
Powys County Council - Ukrainian Resettlement Team
"It was a real privilege to work in partnership with Powys County Council to provide an opportunity to thank a number of those providing homes, support and friendship to the Ukrainian and other refugees currently living in Powys. Hearing the response and experience of the Ukrainians was truly moving and inspirational," said the High Sheriff of Powys, Tom Jones OBE.
Cllr James Gibson-Watt said and Cllr Matthew Dorrance, Deputy Leader and Cabinet Member for a Fairer Powys, said: "This was a wonderful ceremony and we would like to thank the High Sheriff of Powys for bringing us together to celebrate what has been an incredible effort of community support, shared hope and solidarity for and with our Ukrainian friends and neighbours.
"The recipients of these awards fully deserve this special recognition awards. On behalf of Powys County Council, we would like to thank them and everyone else in the county for all the help and support they have offered to those in need."
Special recognition award bios
The Reverend Richard Wootten
Reverend Wooten has been a guiding light for Ukrainian guests and their hosts who have settled in and around Brecon, championing them through the Brecon area. Richard has ensured that St David's Church become a welcoming sanctuary and has hosted a number of events for the Ukrainian guests including, by kind permission of the Bishop, an Orthodox Christmas celebration and a celebration of the Ukrainian Day of Unity.
Richard has always put their needs first and has been a brilliant advocate for Ukrainians in Powys.
Igor Sydorov
To many in the Brecon area, Igor has become the face and voice of Ukrainians in the town. Igor has been key to bringing members of the Ukrainian community together in Brecon, working with the various agencies, and has been key to setting up support for fellow Ukrainians. Igor has provided a voice for those who feel less able to speak and share their experiences.
Andrea and Rohan Murdoch and the Hotel Commodore
The Hotel Commodore was asked to be an initial accommodation site by the Welsh Government. Andrea and Rohan ensured that guests were given a true Powys welcome. They were there for their every need and supported those at the hotel as if they were their own family.
Guests wanted for nothing, and Andrea and Rohan went over and above what could have been expected of any accommodation provider. Thanks to their efforts, a number of Ukrainians have chosen to make Llandrindod their home.
Hay, Brecon and Talgarth Sanctuary for Refugees and Crickhowell Supports Ukraine
Hay, Brecon and Talgarth Sanctuary for Refugees and Crickhowell Supports Ukraine work very closely together and have organised several events including Christmas celebrations, walks throughout the local area as well as regular fundraising events. In addition, the groups organise regular question and answer sessions with local and national politicians and policymakers, enabling those who make the decisions to hear directly from our guests and the issues that they are facing.
Jane Morgan
Jane set up a Facebook group called Buy and Sell UK - 100% to the DEC Ukraine Appeal in March 2022 in order to raise funds for those who have bene affected by the war in Ukraine. The group started with 12 people and membership has now risen to over 1,500 people. Members of the group donate their unwanted items, which other members purchase, with donations given directly to the DEC Ukraine Humanitarian Appeal. The group has now raised over £24,000 all of which has made a difference in supporting those in Ukraine.
Sarah Shuffell
Sarah was formerly employed by BBC World Service and was on the ground in Ukraine at the start of the war, during which time she was sub-contracted to Reuters and provided technical support to Ukrainian journalists so that they could broadcast and tell the story of the war around the world. Sarah and four colleagues came together to respond to the need of the Ukrainian people, and as a group they placed 1,200 Ukrainian Refugees with hosts in Wales, with Sarah personally placing around 300 guests with hosts.
PAVO - On Behalf of the Voluntary Sector in Powys
As soon as news broke of the war in Ukraine, the voluntary sector in Powys once again came forward to initially fundraise to provide support for those impacted by the war, before supporting the refugees who arrived in Powys to resettle. The support groups who we have throughout Powys have been fantastic, but the whole voluntary sector have come together from community transport, food banks, and sporting organisations to make Ukrainians feel welcome in Powys. It is impossible to name each and every group who have made a difference, but this award recognises the impact that the voluntary sector has had in welcoming Ukrainian guests.
Powys County Council's Ukrainian Resettlement Team
Powys County Council's Ukrainian Resettlement Team, led by Clare Davies, have supported hosts and guests through their resettlement journey. Every day is different, and brings a new challenge, something which the team have grasped, they have simply "got on with the job" always putting the needs of our guests first. Like everyone involved, they have been learning every single day, but each and every team member has risen to the challenge.
Powys has welcomed over 440 Ukrainian individuals, each of which have been supported by this team, as well as many other areas of the public sector in Powys.