New Chair for county's Armed Forces Covenant Regional Partnership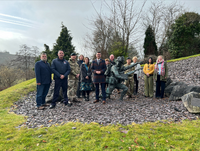 22 March 2023

A partnership that supports the county's Armed Forces community has a new chair.
Cllr Matthew Dorrance, Powys County Council's Armed Forces Champion, chaired his first meeting of the Armed Forces Covenant Regional Partnership Powys last month (February) at Brecon's Infantry Battle School at Dering Lines.
The partnership, which sees the county council, charities and service providers develop the provision and promotion of local services for the Armed Forces community in the county so that they don't face disadvantages.
The overall aims of the partnership are to:
encourage local communities to support the armed forces and to understand and be aware of the issues affecting the armed forces community;
recognise and remember the sacrifices faced by the armed forces;
encourage activities that help integrate the armed forces community into local life;
encourage the armed forces community to help and support the wider community, whether through participation in events and joint projects, or other forms of engagement.
"It was an honour to chair my first meeting of the partnership as Armed Forces Champion as we look to support those who serve and those who have served. I thank Lt. Col. Rupert Anderson for hosting the meeting at the Infantry Battle School in Brecon," said Cllr Dorrance.
"It was a positive and ambitious meeting with a team that want the best for our Armed Forces community. My grandfather, father and brother all served in our armed forces so I look forward to working in partnership with our Armed Forces communities to make a real difference for our veterans, our service personnel and their families."