Tender package published for council housing development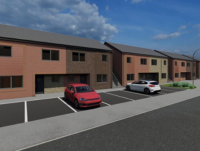 27 April 2023
A tender package to build 32 one-bedroom flats in north Powys has now been published, the county council has said.
Powys County Council's Affordable Housing Team is looking to appoint a principal contractor to build the energy efficient homes on the site of the former Robert Owen House in Newtown.
The new homes will be owned and managed by the council and allocated to applicants on the Powys Common Housing Register.
Cllr Matthew Dorrance, Deputy Leader and Cabinet Member for a Fairer Powys, said: "One of the priorities of the Cabinet is to tackle the housing emergency in the county and this can only be achieved by building high quality council housing.
"To achieve this, we have approved an ambitious plan to build more than 310 new council homes as part of an investment package worth almost £79m.
"Not only is this development in Newtown part of our ambitious housing building plans, but it is also an important project for this council if it is to tackle the housing emergency.
"This is an exciting development that will meet the needs of the local community and the successful contractor will be helping us meet one of our important priorities."