Glyndŵr's Way - vital path improvements bring benefits to all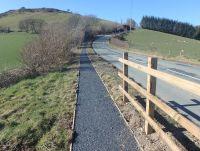 11 May 2023

May is National Walking Month, a great time to discover the many walking routes of Mid Wales. Among them is Glyndwr's Way, a 135 mile (217 km) long National Trail, where walkers can enjoy the very best of Mid Wales - open moorland, rolling farmland, woodland and forest. Starting in Knighton and ending in Welshpool, this trail is famous for its remoteness and spectacular views.
Helen Tatchell is Glyndŵr's Way's National Trail Officer and is responsible for the management of the path which includes surveying and managing improvements. Among the improvements undertaken this year, contractors have constructed a new aggregate path alongside a very busy stretch of highway, the B4518 Llanidloes to Staylittle road. Helen explains: "The new stretch links two farmland footpath sections of Glyndŵr's Way and provides a safe route for all people who use the Glyndŵr's Way National Trail in the area. Prior to this, walkers had to walk in the road or along the ditched and bumpy verge, but now there's a far more pleasant, safe path".
The works were carried out by a local contractor with the minimum of disruption to users of the trail and local traffic and was funded by Welsh Government and Natural Resources Wales.
Cllr Jackie Charlton, Cabinet Member for a Greener Powys is a keen advocate for the great outdoors: "Here in Powys we are fortunate to have a spectacular selection of walks and trails throughout the county, including the Glyndŵr's Way.
"This culturally important National Trail takes you to some of the finest landscape features in the county, and we are always happy to welcome the many walkers who visit Powys to enjoy the diverse landscape and the warm hospitality found within our picturesque market towns, villages and rural communities along the routes.
"I would like to thank Welsh Government and Natural Resources Wales for their ongoing support in helping Helen and the rest of the council's Countryside Access and Recreation team, to ensure these trails and walking routes are maintained and remain accessible for all to enjoy."
Other developments on the path include the development of new day long itineraries Glyndwr's Way - Circular and Linear Walks - National Trails that provide walkers with amazing day walks written by the well-known travel writer, Paddy Dillon.