Innovative Scan|Recycle|Reward trial to be held in Brecon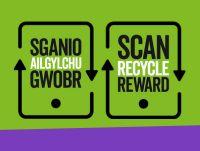 24 May 2023

Brecon residents, workers and visitors will soon be invited to take part in an innovative
Scan|Recycle|Reward
recycling trial launching within the town this summer.
Being led by the Digital Deposit Return Scheme Alliance, in partnership with Welsh Government, Powys County Council and local retailers, the 12-week trial will test how digital technology can be used to encourage more recycling in Brecon.
The Scan|Recycle|Reward trial will test a new digital method of tracking recycling. Trial participants will be able to claim cash rewards by scanning the uniquely labelled drink containers with their mobile phones before recycling at home, through their normal kerbside recycling collection, or using various 'on the go' recycling points around the town.
The uniquely labelled drinks containers will be available to buy from many of the shops within Brecon, and a full list of participating retailers, and locations of the 'on the go' recycling points, will soon be available online.
Cllr Jackie Charlton, Cabinet Member for a Greener Powys, explains "Every eligible household Brecon will soon be invited to take part in this exciting new Scan|Recycle|Reward trial. Once all the details and date have been confirmed, an information pack containing everything they need to know about how to get involved will be sent out.
"Although completely voluntary, we are hoping that as many people as possible join in and help us improve recycling rates, whilst also benefiting from the cash rewards on offer. For every container scanned and recycled correctly, participants will have the choice to 'cash in' their reward or donate it to a local charity.
"The trial will help us understand people's preferred return options for these types of containers and learn more about recycling behaviour. This will be the first time anywhere in the world that a whole town will use this new technology and the findings will be analysed and shared with the rest of the UK, putting Brecon at the forefront of recycling innovation.
"We really look forward to your involvement over the coming months."
A Welsh Government spokesperson said: "Welsh Government has committed to introducing a Deposit Return Scheme for drink containers with a planned go live date of October 2025. The scheme is designed to tackle littering of bottles and cans and drive Wales's already high recycling rate even higher. This trial is important in understanding and testing how best to operate such scheme in an existing community, gathering information on the consumer response and how innovative technology could be used in its operation.
"We welcome the great support of Powys County Council and the Digital Deposit Return Scheme Alliance who have led on the development and implementation of the trial. But particular thanks will need to go to the people of Brecon for their involvement and engagement to make this pilot successful and invaluable learning experience."
More information on the Scan|Recycle|Reward trial, including instructions on how to take part, lists of participating retails, and details of all the 'on the go' recycling points, will be available online soon: Scan | Recycle | Reward