Interim Directors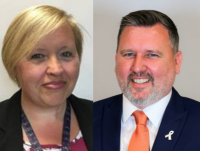 22 September 2023

Powys County Council has announced that two interim directors will be joining the Council's Executive Management Team next month.
Matt Perry will join the team as interim Director of the Environment and Diane Reynolds as Interim Director of Economy and Community Services. Both appointments are effective from October 30.
The appointments follow the resignation of Executive Director for Economy and Environment Nigel Brinn following his appointment as the Chief Executive of the Forest of Dean District Council.
Matt will be responsible for both the Highways Transport and Recycling and the Property, Planning and Public Protection service areas.
Diane will be responsible for Economic Development and Community Services. Noting that the Community Services team includes Leisure, Library, Culture, Catering and Cleaning. In addition, Diane will lead on some key regional working projects such as the Corporate Joint Committee, the Regional Skills Partnership, Growing Mid Wales and the Marches Forward Partnership.
Chief Executive Jack Straw has congratulated them both on their appointment and welcomed their addition to the Executive Team and said he was looking forward to working with them in their new roles.
"Matt and Diane bring a wealth of experience to the team and have clearly demonstrated their passion for both their service areas and for wider public service. We have a number of considerable challenges ahead of us as a Local Authority and I am sure that Diane and Matt will play a key role in addressing them," he said.
A full review of the senior managerial arrangements for the authority will take place following the appointment of a permanent Chief Executive Officer.