Ambitious Transforming Educations plans move forward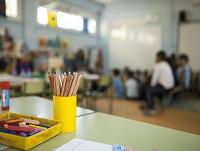 26 September 2023

Ambitious plans that could transform education in areas of north Powys, including boosting Welsh-medium education, have taken a step forward after being given the go-ahead by Cabinet, the county council has said.
Powys County Council is looking to continue delivering the next wave of its Transforming Education Programme, which was relaunched last year along with an updated version of the council's Strategy for Transforming Education in Powys.
The latest plans confirm the council's ambition to transform the education sector in Powys, which include the groundbreaking and long-awaited development of designated Welsh-medium secondary provision to serve the pupils of North-East Powys, as well as developing more Welsh-medium provision in the primary sector.
The plans also include building new schools to replace the ageing school estate, which would enable children and young people to learn in facilities that are modern and achieve net zero, with early years and community facilities also included. Some schools could be combined and others could close as part of the proposals.
Cllr Pete Roberts, Cabinet Member for a Learning Powys, said: "Securing the best start in life for our young people is the only way that we can build a Stronger, Fairer and Greener Powys. One of the ways we can achieve this is by transforming education.
"These proposals would see the council provide well planned provision for increasing the opportunities for a growing number of children and young people to become fully bilingual, fluent in both Welsh and English while delivering 21st Century facilities that would provide environments where learners and teachers thrive and reach their potential.
"I believe that these proposals meet the aims of the Strategy for Transforming Education in Powys and implement the commitments in our Welsh in Education Strategic Plan, which will enable us to make good progress against our target of increasing the number of pupils being taught through the medium of Welsh."
The plans, which were considered by Cabinet today (Tuesday, September 26), are:
Moving Ysgol Bro Caereinion along the language continuum to become a Welsh-medium school.
The preferred way forward for reorganising education in Llanfyllin / North Welshpool area.
Ysgol Bro Caereinion
Move Ysgol Bro Caereinion along the language continuum and alter its language provision so it eventually becomes a Welsh-medium education setting that would enable all learners to develop their language skills and become fluent in Welsh and English, providing a wealth of opportunities for their future paths.
The proposed change would be introduced on a phased basis year-by-year, starting with Reception and Year 7 in September 2025. Additional support would be provided to pupils not yet in the Welsh stream in the form of immersive Welsh language support 'Trochi', which the council has successfully delivered in the county.
Llanfyllin / North Welshpool Catchment
The preferred way forward to transform education in the Llanfyllin / North Welshpool catchment would see capital investment to build up to three new schools while supporting schools to move along the language continuum to improve Welsh-medium education provision. Some schools could possibly combine and others close as part of the preferred way forward. The three schools that could close are Llangedwyn C. in W. School, Ysgol Bro Cynllaith and Brynhafren C.P. School.
"All changes will be subject to the statutory school reorganisation process which involves further extensive consultation with school and their communities, before any final decisions are made," Cllr Roberts said.
To find out more about Welsh-medium education in Powys, visit https://en.powys.gov.uk/schools and click on Destination Bilingual.
To read the updated Strategy for Transforming Education 2020-2032 and details of the Transforming Education Programme - Wave 2 (2022 - 2027) visit https://en.powys.gov.uk/transformingeducation