New chief executive for Powys County Council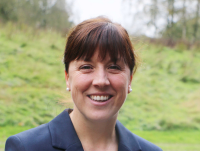 3 October 2023
Powys County Council has announced the appointment of a new Chief Executive.
Emma Palmer, who is current Director of Corporate Services, was appointed Chief Executive at a meeting of the full County Council today (Tuesday).
She will start her new role shortly, succeeding Interim Chief Executive Jack Straw, who was appointed in April.
"I congratulate Emma on her well-deserved appointment and wish her well for the future," he said.
Emma is an experienced senior local government officer and has worked in the public sector in Wales for more than 24-years. For the past six years Emma has held executive positions at Powys County Council including Director of Corporate Services and Head of Transformation and Communications.
"I am absolutely delighted to have been offered and accepted the position of Chief Executive of Powys County Council. Having been born and grown up in Powys I feel very privileged to have been appointed to serve the county," she said.
A life-long resident of Powys, Emma lives with her family near Brecon.