Brynllywarch Hall School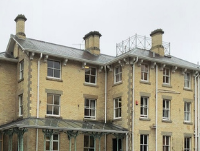 6 October 2023

A new tender process to build a replacement facility for a special school in north Powys is to be carried out, the county council has said.
Powys County Council will be seeking new contractors to build the new facility for Brynllywarch Hall School, located in Kerry near Newtown.
In May 2022, ISG Construction Ltd were commissioned by the council to complete the design stage for the 64-place replacement school following a competitive tender process, which included the option for the company to carry out the construction phase of the project.
ISG Construction Ltd have completed the design stage for the new building and a planning application has been submitted.
Following the completion of the design phase, the council has carried out a review of the project and has taken the decision not to progress with the construction phase until a further market testing exercise is carried out.
Cllr Pete Roberts, Cabinet Member for a Learning Powys, said: "We are committed to providing a new facility for Brynllywarch Hall School as the existing building no longer offers a suitable environment for the teaching and support requirements of pupils with significant behavioural, emotional or social difficulties.
"It is important that the council reviews its build projects as they progress. For this project, we have decided to carry out a further market testing exercise for the construction element.
"We would like to express our thanks to ISG Construction Ltd for their contribution to this important project.
"We will commence a competitive tender process to appoint a contactor for the construction of this new building at the earliest opportunity so that we can provide an environment where teaching staff can thrive and provide pupils with the facilities that enable their needs to be met, giving them a more enjoyable and fulfilling educational experience."