Powys County Council vehicles are DVSA accredited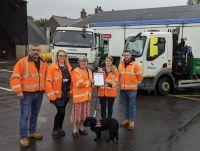 18 October 2023
Powys County Council has become an accredited member of the DVSA Earned Recognition Scheme.
The voluntary scheme, administered by the Driver and Vehicle Standards Agency (DVSA), is a way for vehicle operators, such as the councils fleet service, to prove the organisation meets driver and vehicle safety standards. As an accredited member, the council have a strong track record of compliance and adherence to the regulatory requirements in running a fleet of vehicles and will regularly share performance information with DVSA.
Powys County Council are the first local authority in Wales and only the third in the UK, to achieve the standards required to become accepted into the DVSA Earned Recognition Scheme
Cllr Jackie Charlton, Cabinet Member for a Greener Powys, said: "The number of vehicles that our fleet team manage and maintain across the county is staggering. Acceptance into the DVSA Earned Recognition Scheme just proves that despite being busy, we are committed to ensuring we always maintain a high standard of driver and vehicle safety."
Photo, L-R: John Forsey, Calais Perry, Cllr Jackie Charlton, Rachel Abbott, Shaun Matthews