National Adoption Week calls on more Welsh people to consider adoption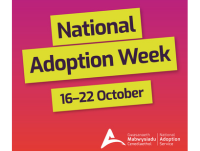 20 October 2023
This National Adoption Week (16-22 October), the National Adoption Service for Wales (NAS) is continuing its mission to get more people to consider adoption, as sibling groups, children with additional needs, and older children across Wales still wait to find their 'forever home'.
Working to challenge misconceptions around adoption, NAS is launching a series of informative videos to help people who believe they can't adopt to consider enquiring.
This National Adoption Week, NAS hopes to change the general public's perceptions through myth-busting outdated ideas and sharing first-hand experiences.
Adopters from across Wales have become involved in the campaign, featuring in videos and writing blogs to inform others. Faith, who adopted a sibling group through Vale, Valleys and Cardiff Adoption Service (VVC), explained why she got involved:
"We'd already considered adoption but when we found out that even if we'd had IVF, I wouldn't be able to carry to full term, we started to consider it more seriously. When the social worker said that we were suitable not only for a two-sibling group, but a larger one, it shocked us but it was like, oh my goodness, this could become a reality".
"My partner and I had lots of discussions, one of the first being, is our house big enough? When we went to our family and friends, we thought there'd be some resistance - we'd gone from being a couple to a large family - but instead, they just gave us love and support".
"Even though our family is far bigger than we could ever have imagined, it was the best thing because we kept these siblings together."
In addition to sharing adoption stories, the National Adoption Service for Wales has been increasing knowledge about adoption with communities across the UK, through their award-winning podcast, Truth Be Told: Adoption Stories.
The two series of the bilingual podcast, which featured stories from seven adoptive families alongside a special episode, produced and hosted by adopted young people, was praised for its candid look at adoption.
Tasha, a teacher who adopted two siblings with additional learning needs through Adoption Mid and West Wales and took part in series one of the podcast, explained:
"When I sent my email of interest [for adoption], my family were telling me that 'they' wouldn't want me because I'm single, I've got a full-time job, I've got a dog. I thought 'Why wouldn't they want me?'
"I went in very open-minded. I obviously had to consider that my family live 2 ½ hours away, however, I was aware that a lot of older children (school age upwards) are often waiting the longest".
"My social worker was great, and I'd been in touch with the foster family. So, when I brought them home, I didn't abandon the routine they'd built up at their foster carer's house. I even kept a chocolate milkshake for before bed as that's what their foster carers did".
"My daughter was quite sensitive to some things, and we worked on them with her over time. Noticing that she was starting to let go of these triggers was a sign to me, that she was going in the right direction."
Every corner of Wales is getting involved
Regional activity across Wales will take place during National Adoption Week and following weeks.
On Wednesday 18 October, the North Wales Adoption Service will complete their 402-mile walk of the North Wales Coastal Path, which has been taking place over the past year, with a special event at Wrexham AFC with the mayor.
On Monday 16t October, Western Bay Adoption Service is also hosting a walk spanning on three local authorities, with each participant walking in pairs or groups, to represent the fact that sibling groups are waiting and celebrating their collaborative approach to securing the best possible futures for local children.
Vale, Valleys and Cardiff Adoption Service, and Adoption Mid and West Wales will be hosting information evenings and sharing myth-busting content to help prospective adoptive parents learn more about the adoption process.
South-East Wales Adoption is sharing informative social media content, while St David's Adoption Service will be showcasing a series of short films, featuring adopters and an adopted person.
Alongside all of this adoption professionals from across Wales will come together to celebrate the positive messages and work that has been taking place to improve services since NAS came into existence.
Suzanne Griffiths, Director of the National Adoption Service for Wales and Foster Wales said:
"We hope that during this year's National Adoption Week, people thinking about adopting across Wales will find the information being shared helpful and inspiring. We aim to answer many of the questions they might have about adopting a sibling group, children with more complex needs or an older child. Our services are always happy to provide more information."
Find out more adoption in Wales:adoptcymru.com