Family owned soft drinks company is Powys Business of the Year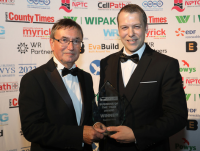 24 October 2023
Glasses were raised to toast family-owned soft drinks manufacturer Radnor Hills who had a night to remember at the Powys Business Awards on Friday.
The company, which has a workforce of 280 at Heartsease, near Knighton, was named the overall Powys Business of the Year, sponsored by Powys County Council.
In addition, Radnor Hills became the first winner of the new Excellence in Sustainability Award, sponsored by Welsh Government, at the annual awards ceremony held at The Hafren, Newtown. Amazingly, all but 30 of the scheduled 230 guests managed to attend the event despite flooded roads across the county.
Organised by Mid Wales Manufacturing Group (MWMG) with support from sponsors, the coveted awards, are open to companies, organisations, social enterprises and charities. Awards host for the third time was BBC Wales presenter Claire Summers.
Established in 1990 by William Watkins on his family farm, which has exceptionally pure spring water, Radnor Hills has an annual turnover of around £58 million and is constantly striving to become more sustainable to protect its local environment.
The company has made a 'zero to landfill' commitment, introducing straw-free cartons, 100% recycled plastic bottles, planting more than 14,000 trees and recycling everything it possibly can.
Radnor Hills' environmental management system and site have been certified to ISO14001 standard, it has an on-site recycling facility and invested £1.8 million in a new solar farm to provide 21% of the company's energy requirement.
Councillor David Selby, Powys County Council's Cabinet Member for a More Prosperous Powys, said: "Radnor Hills has demonstrated a focussed and committed leadership approach, where excellence in sustainability is at the heart of the business.
"Their continued reinvestment in the company, in terms of operations, people development and environmental standards, ensures their continuing strengthened position in the market place both now and in the future.
"In what is a challenging environment, the company are setting their sights higher in terms of their environmental responsibility which again sets them apart from the competition. We believe they are an example to others and make a worthy ambassador as a standard bearer for business in Powys."
Radnor Hills product and innovation developer Christian Smith, who collected the awards in the flood enforced absence of general manager Dave Pope, said: "It's a privilege to accept this award which is a credit to the whole company.
"Huge credit also goes to Radnor Hills owner and creator William Watkins who is so passionate about the company and very much a hands-on leader."
Mr Watkins added: "Radnor Hills ensures that sustainability is at the forefront of everything we do. From the top to the bottom of the company we want to ensure that we are doing the right thing not just for Radnor Hills but also for the environment and the planet. After all, it's in our nature."
Hilltop Honey from Newtown also celebrated a double by collecting the Growth Award sponsored by EDF Renewables and the Entrepreneurship Award sponsored by Mid Wales Manufacturing Group.
Amye Pickstock and Jake Sampson, landlords of The Abermule Inn, Abermule, won the special Judges Award and first winner of the Sole Trader Award, sponsored by the Powys County Times, was Sue Lewis from Wash & Wags, a mobile dog grooming business from Libanus, Brecon.
Black Mountains College, Talgarth won the Small Business Award, sponsored by WIPAK; CastAlum Limited, Welshpool, won the Technology and Innovation Award, sponsored by Cellpath; EOM Electrical Contractors, Newtown, won the Small Business Growth Award, sponsored by WR Partners; FieldMouse Research Ltd, Montgomery, won the Micro Business Award, sponsored by Welshpool Printing Group; Great House Farm Luxury Pods and Self Catering at Llandeilo Graban, Builth Wells, won the Start-up Business Award, sponsored by EvaBuild; Pave Aways Ltd, Newtown won the People Development Award, sponsored by NPTC Group of Colleges and The Arches - Rhayader & District Community Support, won the Social Enterprise/ Charity Award, sponsored by Myrick Training Services and
Runners up for the awards were: Start up Business Award: Espanaro Ltd, Newtown and The Abermule Inn. Entrepreneurship Award: Hummingbird, Newtown and Espanaro Ltd. Micro Business Award:Waggon and Horses, Newtown and Advantage Automotive Ltd, Presteigne. Growth Award: Morland UK, Welshpool; Links Electrical Suppliers Ltd, Newtown and SWG Group, Welshpool. Small Business Award: ESCO/ M&S Pizza, New Radnor and PM Training & Assessing Ltd, Crickhowell. Social Enterprise/ Charity Award:Siop Llangors Shop, Llangors, Brecon and Maesmawr Group, Llandinam. Small Business Growth Award: KC Accountancy Services, Llanfyllin and The Abermule Inn. Technology & Innovation Award: PM Training and Assessing Ltd and Arcticfox Adaptive Ltd, Montgomery. People Development Award: CastAlum Ltd, Charcroft Electronics, Llanwrtyd Wells and Marches Business Group, Llandrindod Wells. Sole Trader Award: The Prized Pig, Abermule and Dark Sky Escapes, Brecon. Excellence in Sustainability Award: Splosh Limited, Newtown and Plas Dinam Country House, Llandinam.
Picture caption: Councillor David Selby presents the Powys Business of the Year Award to Christian Smith from Radnor Hills.