Llanidloes Museum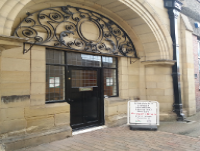 The museum depicts the history of the Borough of Llanidloes during the last 300 years. Exhibits include a recreated Victorian kitchen, parlour and gentleman's study and best of all there is no admission fee.
Llanidloes Museum of Local History and Industry was established in 1930 within the town's old Market Hall. In 1995, the Museum re-opened on a new site within the ground floor of the Town Hall. In 2000, thanks to the generosity of Llanidloes Town Council, the Museum acquired an extra room within the Town Hall thus doubling its size.
In 2017 the museum and local library co-located the space creating an exciting and truly integrated venue.
Opening Hours
Mon: 10am - 1pm
Wed: 10am - 1pm and 2pm - 6pm
Fri: 10am - 1pm and 2pm - 4pm
Sat: 10am - 12pm
Collections
The museum displays reflect the collections as well as the major events and development of Llanidloes during the last three centuries. In the foyer is a display dedicated to the Chartist movement and the "riots" of 1839, further on amongst the bookcases are displays on civic history, local trade and tourism as well as the mining and woollen industries.
Household items are shown in two themed cases representing late Victorian rooms. The "parlour" has period furniture such as a settle, chairs and a cradle whilst the kitchen and laundry setting has a fireplace with a crane, fire irons and a kettle tilter with kettle. Placed on shelves are sugar cutters, wooden plates and bowls, a tea caddy, jelly moulds as well as butter prints and many other utensils. Finally, the Victorian gentleman's study shows off the museum's fine collection of natural history cases and sets them in a historical context.
Contacts
Email: ylanfa@powys.gov.uk
Phone: 01686 412855
Address: Llanidloes Museum, Town Hall, Great Oak Street, Llanidloes, Powys, SY18 6BN
Location: View here
---