Floods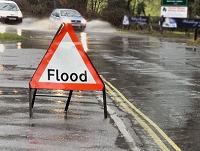 Flood warnings
For advice on what to do before a flood, what to do during and after a flood, to sign up to receive flood alerts or to monitor flood warnings visit the National Resources Wales website.
Blue Pages is a directory of property flood products and services put together to advise and inform you of what's available to help reduce the risk of flooding to your home or business.
The National Flood Forum is a British charity dedicated to assisting individuals who have been affected by flooding and to guiding legislation related to flooding.
Pipe bursts
To report flooding from a sewer or water main please get in touch with the relevant utility company for your area.
To report blocked drains or storm screens
Blocked or obstructed drains, ditches and storm screens can cause them to overflow in heavy rain. If you spot a blockage please help us by calling 0845 6076060 to report the problem.
Sandbags
The primary responsibility for protecting property from flooding rests with the property owner. At times of high flood risk our Highways staff will try to deliver sandbags to properties at imminent risk. However, this will not always be possible due to demand or weather conditions. Priority will be given to protecting the vulnerable, the elderly or infirm and to key facilities and buildings within the community. Some stocks are available for collection from Highways depots.
Discretionary Assistance Fund (DAF)
An Emergency Assistance Payment (EAP), is a grant to help with essential costs after an emergency, or if you have experienced a disaster such as a flood or fire in your home, click here for further details
The contact centre telephone lines are open from 8:30am to 5:00pm Monday to Thursday and 8:30am to 4:30pm Friday.

The numbers are: General Enquiries 01597 827460 or 0345 6027030.

For Highways issues, including sandbags, dial 01597 827465 or 0345 6027035.

Outside these times (emergencies only) please contact us on 01597 825275 or 0845 0544847