Vulnerable Groups Team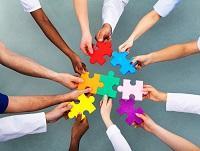 Vulnerable Groups - Minority Ethnic, English as Additional Language (EAL), Gypsy Roma Travellers, Refugees and Asylum Seekers, Service Children
What pupils do we support?
Pupils who are from Minority Ethnic Backgrounds which includes:

English as additional language pupils - any stage on the EAL acquisition assessment
Gypsy, Roma, Travellers
Syrian refugees and Asylum Seekers

Service children
What do we do?
Provide education and learning, support and advice across community networks
Provide support for pupils, families and schools to ensure pupils engage successfully in school life and learning
Support schools to ensure early identification, effective provision and intervention for pupils
Race Equality/Diversity and curriculum support and development
Provide CPD resources and tools for schools and families to support pupil induction, learning and teaching.
How can you access support?
Please do not hesitate to contact one of the team if you have any questions about supporting pupils and families from vulnerable groups and we look forward to working with you.
Sarah Court
Specialist Teacher for Vulnerable Groups
Helen Quinlan (Mid and South Powys)
Caseworker and Family Liaison Officer for Vulnerable Groups
Shona Perry (Mid and North Powys)
Caseworker and Family Liaison Officer for Vulnerable Groups
Contact email : alndepartment@powys.gov.uk
Phone: 01597 827339