Hear from learners and parents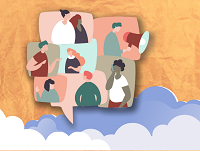 What learners say
"I'm very glad that I was put into Welsh education. I'm really happy to have a second language, especially one that opens up such a diverse culture. It's given me a different perspective on culture and language, and I feel very lucky to play a part in the survival of a minority language"
"Being able to speak Welsh has changed my life completely. It has given me access to various parts of the culture that otherwise would have been shut off from me. Being able to participate in the Welsh folk music scene specifically has changed the course of my life - I can't imagine gaining such an enriching experience from it without the language. I feel very privileged to be able to see the world in two different ways, and to have an understanding of linguistic and cultural politics from a young age without even having to think about it. I can't imagine life without it (and don't want to!)"
What parents say
"Having Welsh in the family has been enriching. It has made us more at home in the local community and taken us to many events and gatherings we wouldn't have experienced otherwise. It has definitely added to our lives, and it hasn't taken anything away, so I'm very glad we made that decision"
"As English-speaking parents, we would fully recommend Welsh medium education for any child. Our experience has been totally positive right from pre-school, through Primary school and now Secondary school. Staff have made every effort to support our child, as well as us as parents. We hope that our daughter will continue to use her Welsh language skills in adult life as well. We feel that you have nothing to lose and everything to gain and hope that your child will benefit from Welsh medium education as much as ours has"