Early Years Funded Education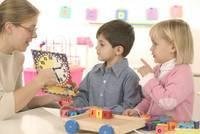 The Welsh Assembly Government wishes to ensure that all parents and carers in Wales can have access to free part time early years learning for their children from the beginning of the term following their 3rd birthday.

The table below shows when your child will become eligible for up to 5 terms of funded part time pre-school provision:

| If your child was born between | Eligible Term |
| --- | --- |
| 1st April & 31st August | Autumn Term after their 3rd birthday |
| 1st September & 31st December | Spring Term after their 3rd birthday |
| 1st January & 31st March | Summer Term after their 3rd birthday |
All providers must meet and keep to a set of criteria, including staffing ratios and qualifications.
Providers must make sure that wherever the provision is, the quality and the learning opportunities are similar.
The registered settings will be supported by the Powys Foundation Phase Team and inspected by Care Inspectorate for Wales (CIW) and by Her Majesty's Inspectorate for Education and Training in Wales (ESTYN). The funding for places for 3 and 4 year olds is paid directly to the provider.
Childcare settings need to update their information every 6 months to remain live on the system, as such there may be settings in your area, that aren't displayed - please don't hesitate to contact Powys Family Information Service if you can't find what you are looking for.
What provision can I access?
Parents and carers may choose to send their child to up to 2 approved settings, provided there is a place available. Each qualifying child can receive up to 10 hours per week of funded Early Years Education.

How can I access a place?
To apply for a place at your chosen setting you will be required to complete a Parental Preference for Early Years Funded Education form ('available from the Admissions Team and settings) This should be completed and returned to the Admissions team, with a copy of your child's Birth Certificate.
This provision for 3 and 4 year olds is not obligatory - children are not required to attend, however once a parent has decided that they wish to secure a place for their child there will be an expectation that the child will attend; failure to attend will result in the withdrawal of their place. If Parents/carers choose not to use the whole of the 10 hours offered, the remaining time may be made available to other children.
For further information and advice, please see our admissions information or contact Powys Family Information Service.
Contacts for admission enquiries
Phone: 01597 826477
Address: Admissions Team, Powys County Hall, Spa Road East, Llandrindod Wells, Powys, LD1 5LG
Follow us on:
---