Council issues warning over energy efficiency installer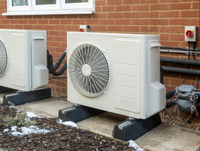 23 January 2023

An energy efficiency installer advertising grants for air source heat pumps and solar panels on Facebook are using Powys County Council's logo without permission, the county's residents are being warned.
Birmingham-based iEnergy Limited has been using the Powys logo to promote the availability of grant funding for household energy efficiency measures through sponsored adverts on Facebook.
The use of the logo by iEnergy wrongfully suggests that the council has given endorsement and is in partnership with the installer.
The logo is a registered trademark that belongs to Powys County Council and has not given iEnergy Limited permission to use it. The council also does not endorse the services the company provides.
The council has written to iEnergy Limited demanding that they stop using the Powys logo on adverts that appear on Facebook and other social media platforms.
Cllr Matthew Dorrance, Deputy Leader and Cabinet Member for a Fairer Powys, said: "We understand that there are numerous companies across the UK that provide and install a range of energy efficiency measures as part of the government's Energy Company Obligation (ECO).
"However, iEnergy Limited's use of our logo has given the impression to those Powys residents who have seen this advert on Facebook that the council has endorsed their company.
"We have not given permission to this company to use our logo and we do not endorse the services they provide.
"If the company continues to use our logo, we will take appropriate legal action against them."
The council does have a scheme to help tackle fuel poverty in Powys. The ECO4 Flex scheme will enable home energy improvements and is being delivered on behalf of the council by Warm Wales, a community interest company specialising in delivery of programmes designed to address fuel poverty in Wales.
Warm Wales will provide a fully managed scheme, field enquiries, undertake assessment of client eligibility and work directly with energy providers and agents obligated to deliver measures under the scheme.
"ECO4 Flex is considered a key driver in assisting the council in their aim of reducing fuel poverty, whilst simultaneously contributing towards reducing carbon emissions from domestic homes, owned or occupied by those unable to pay for improvements themselves," said Cllr Dorrance.
"I would urge anyone in the county that living in fuel poverty to contact Warm Wales."
To find out more about the Warm Wales Powys Energy Saving Scheme, visit https://www.warmwales.org.uk/powys-energy-saving-scheme-2/ or call 01656 747 622.