Newtown DIY enthusiast fined for fly-tipping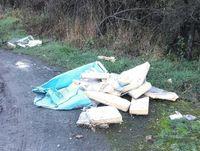 7 February 2023
A Newtown resident has been fined £400 for illegally dumping rubbish in the 'devil's elbow' hair-pin bend layby (near Dolfor) of the A483 trunk road.
Reported by the North and Mid Wales Trunk Road Agency (NMWTRA), the fly-tipped material consisted of waste DIY building material. On inspection, the council's Powys County Council Waste Awareness and Enforcement Officers found a receipt within the rubbish, which linked back to a local builder's merchant.
The vendor was able to supply information which linked the purchase back to a north Powys resident. Following an interview under caution, the culprit admitted the waste was left over from their home DIY project and was subsequently issued with a £400 Fixed Penalty Notice for fly-tipping.
Cllr Jackie Charlton, Cabinet Member for a Greener Powys, says "This is appalling behaviour whereby someone has gone out of their way to dump rubbish in our beautiful countryside rather than take it to one of the county's Household Waste Recycling Centres and dispose of it correctly.
"Once our colleagues at North and Mid Wales Trunk Road Agency (NMWTRA) bought this incident to our attention, our enforcement team were able to act quickly to clean up the layby and take the appropriate action against the irresponsible individual responsible.
"The council has a zero-tolerance approach to fly-tipping and we investigate all incidents thoroughly with fines issued were appropriate. We know that that majority of Powys residents act responsibly and feel strongly about their local environment, and they will feel reassured that we are tackling these issues quickly and efficiently."
Under Section 33 of the Environmental Protection Act 1990, it is a criminal offence to dump your rubbish in the wrong place. Not only could fly-tippers end up with a hefty fine, but prosecution could also result in a criminal record.
Incidents of fly-tipping can be reported to the council online: Report fly tipping