Presteigne High Street pavement to be widened permanently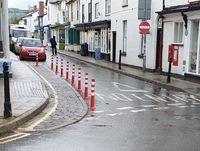 13 March 2023

Work to widen the pavement at the end of the High Street in Presteigne will begin during the week beginning the 20 March 2023.
Measures put in place to help facilitate social distancing measures during the Covid19 pandemic will be adopted permanently along the cobbled end of Presteigne High Street, near the library, later this month.
Currently the cobbled section of the road is cordoned off to traffic with temporary bollards, allowing pedestrians more room to walk along the pavement and into the town centre. The work to raise the cobbled section and incorporate it into the pavement permanently will begin during the week beginning the 20 March and is expected to take no longer than two weeks to complete. Whilst the work takes place the pavement will be closed but access to the shops will be maintained.
Cllr Jackie Charlton, Cabinet Member for a Greener Powys, says, "In the midst of the pandemic measures to help keep people safe were introduced. Here in Presteigne, as in other towns across the county, the temporary changes have proved so beneficial to businesses, residents and visitors to the towns, they have now been adopted permanently."
Local member, Cllr Beverley Baynham, is supportive of the plans to make the pavement wider, and says, "Anything that improves the access to the shops and businesses, encouraging more people to easily visit our town centre, is welcomed.
"The widening of the pavement at the end of the High Street was introduced as a temporary measure during Covid, and I am pleased work will be carried out to make it permanent, without losing any on street parking. The work will ensure that the walkway is accessible for all, especially on busy days or for those pushing buggies or using wheelchairs."
"We appreciate the support this plan has received from local residents and businesses, especially as we realise that there will be a few weeks of disruption whilst the works take place."