New era begins for Ysgol Gymraeg Y Trallwng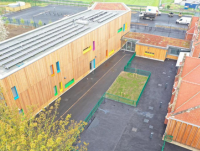 4 May 2023

A new era has begun for a Welsh-medium primary school in north Powys after pupils and staff moved into their new building this week.
The new 150-place school building for Welshpool's Ysgol Gymraeg Y Trallwng is the latest project that has been completed by Powys County Council under its Transforming Education Programme.
As part of the programme, the council has already built one new high school and nine primary schools and also carried out remodelling works at a primary and a high school.
This week (Tuesday 2 May) saw pupils and staff from Ysgol Gymraeg Y Trallwng move to their new surroundings, marking the start of the next chapter in the school's history.
The £9.1m project, which includes the school, early years and community facilities, has been jointly funded by the council and the Welsh Government's Sustainable Communities for Learning Programme (formerly known as the 21st Century Schools Programme).
The innovative scheme for the new school, which has been built by Wynne Construction on behalf of the council, combines the old and the new which will provide the pupils of Ysgol Gymraeg y Trallwng and the community of Welshpool with fantastic facilities whilst maintaining the presence of the iconic Ysgol Maesydre.
The old Grade II listed building has been refurbished to accommodate staff areas, early years and community facilities along with a link corridor through to the new building, which includes the school hall and classrooms. The building will also be the first Passivhaus hybrid project in the UK, which means that it is very energy efficient.
Cllr Pete Roberts, Cabinet Member for a Learning Powys, said: "This is an historic occasion for everyone at Ysgol Gymraeg Y Trallwng, who have finally moved into their new building - six years after plans were put forward to build a new school, whilst overcoming a number of setbacks in the meantime.
"This is a fantastic development, which is now one of the most energy efficient buildings in the UK and will contribute to reducing carbon emissions in the county.
"The new building will provide an environment for pupils and teaching staff to reach their potential while providing important community facilities.
"This is an important development for the council as it supports our aims and aspirations in our Welsh in Education Strategic Plan (WESP) for 2022-32 and the Strategy for Transforming Education in Powys and will help to contribute to the Welsh Government's aspirations to achieve a million Welsh speakers by 2050.
"I would also like to thank the Welsh Government for contributing half of the funding to develop this new school and for supporting the council during the ups and downs this project experienced.
"I want to wish everyone at Ysgol Gymraeg Y Trallwng their very best in their new surroundings and I look forward to visiting them at the earliest opportunity."
To find out more about Welsh-medium education in Powys, visit Destination bilingual.