Powys employers called on to support foster carers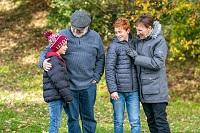 15 May 2023
As families across the country struggle with the ongoing cost of living crisis, Foster Wales Powys is calling on employers in the county to become 'fostering friendly', in hope of addressing the misconception that you cannot continue working if you become a foster carer.
Every day in Wales there are five children in need of foster care.
This Foster Care Fortnight TM (15th-28th May), The Fostering Network, the UK's leading fostering charity, and Powys County Council are calling on the wider business community to lend their support and make it easier for their employees to combine fostering and working.
According to the Fostering Network, nearly 40% of foster carers combine fostering with other work and their 'fostering friendly' policy encourages employers to provide flexibility and time off for employees who are prospective foster carers and are going through the application process.
Cllr Sandra Davies, Powys County Council's Cabinet Member for Future Generations says:
"Reaching out to local employers to be fostering friendly is one of many things we are doing to support our foster carers in Powys.
"We know that when children stay connected, stay local and have someone to stick by them for the long term, we see better outcomes. So, if employers in Powys can support their employees in becoming foster carers, we can help more children stay connected to their roots and ultimately, support them towards better futures."
The Foster Wales Powys team will be at various locations across the county throughout Foster Care Fortnight.
Thursday 18th May: Herb Garden Café, Llandrindod Wells (10.30am - 12.30)
Saturday 20th and Sunday 21st May: Smallholder's Festival, Royal Welsh showground
Tuesday 23rd May: Bear Lanes, Newtown (9am - 1.30pm)
Wednesday 24th May: Co-op, Machynlleth (10am -3pm)
Thursday 25 May: Tesco, Ystradgynlais (10 am - 4 pm)
Friday 26th May: Tesco, Llandrindod Wells (10am - 4pm)
Thursday 1st June: Costa Coffee, Welshpool (11am - 1pm)
Friday 2nd June: Costa Coffee, Brecon (11am - 1pm)
So come along to meet the team, ask questions and find out more about the foster carer role and different opportunities to foster. If you can't make these dates then you can call Foster Wales Powys team on 080022 30 627, email fostering@powys.gov.uk or visit www.powys.fosterwales.gov.wales
To become a fostering friendly employer, get in touch with The Fostering Network fosteringfriendly@fostering.net to find out more.