David Jones Exhibition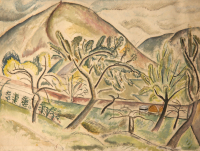 7 June 2023

David Jones was one of the great artist-writers of the twentieth century. A south Powys museum will be holding a major exhibition this summer to celebrate his work.
Made up of around 70 paintings and drawings, y Gaer, Brecknock Museum and Art Gallery, has created an exhibition focused on the artist's work in the Black Mountains during the 1920s, just a few years after his devastating experiences in the First World War.
The exhibition, which will include pieces from Tate, the National Museum of Wales, the National Library of Wales and private collections - many not previously seen in public - will run from 1 July until 29 October.
At the heart of the exhibition will be drawings and paintings made during David Jones' time at Capel-y-ffin, when the upland landscape transformed his work. He described it as 'a new beginning'. Later, he became known for his writing as well as his art. His epic poem about the First World War, In Parenthesis, was considered a work of genius.
Cllr David Selby, Cabinet Member for a More Prosperous Powys, said: "It's fantastic to see that exhibits such as this one will be on show in Powys' museums and galleries.
"The landscapes of the Black Mountains and Bannau Brycheiniog (Brecon Beacons) were a clear muse for the pieces within this exhibition, and it's great that we can have them on display in Brecon for many to see.
"Powys residents and visitors to the county are very welcome to take a look and see what the exhibition has to offer."
Exhibition curator, Dr Peter Wakelin, said: 'Tracing David Jones's pictures of the Black Mountains was a task for a detective. Most were sold to eager collectors and dispersed as soon as they were made. Many that we're now bringing back to the area have never been shown in public since the 1920s. I feel privileged to have been asked to help with the project by Powys County Council and by Brecknock Art Trust, who are generously supporting it.'
Open every day, 1 July to 29 October, 10am to 4pm, admission free.
For more information, please visit, y Gaer Museum, Glamorgan Street, Brecon, LD3 7DW, or contact,
Email: ygaer@powys.gov.uk
Telephone: 01874 623 346
Photo Credit: Bridgeman Images