Town centres benefit from Transforming Towns programme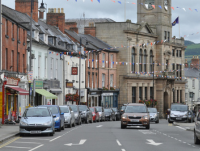 13 June 2023
Nine projects that will help revitalise town centres in mid Wales have received a boost thanks to Welsh Government funding, it has been announced.
Thanks to the Welsh Government Transforming Towns programme, five projects in Powys and four in Ceredigion have funding totalling just over £1.3m, which is anticipated to trigger potential investment worth just over £3m. These nine projects are part of the overarching 'Placemaking Grant' scheme which sits under the Transforming Towns programme.
Projects that are benefitting from the Placemaking Grant include former schools, banks, office buildings and iconic derelict buildings which will see commercial premises, residential units and small businesses being created and bring new life into town centres.
The town centres where the projects are taking place in are Llanidloes, Machynlleth, Welshpool and Ystradgynlais in Powys and Aberystwyth, Cardigan and Llandysul in Ceredigion.
Transforming Towns is a Welsh Government programme providing a further £7million to town centre regeneration in mid Wales over three years. In addition to the Placemaking Grant, a number of key strategic projects have also been funded in recent years, and the Welsh Government has also enabled projects worth £12 million with Loan funding in the region.
Town centres are an essential and personal part of mid Welsh heritage and community, and the Transforming Towns programme is dedicated to serving and connecting the people who live, work, learn and spend leisure time in them.
Julie James, Climate Change Minister said: "Our Transforming Towns programme has already begun to deliver real change, and our commitment of an additional £125 million over three years will further benefit communities across Wales. A collective and concerted effort is needed to help address the challenges many towns face and we will continue to work with our local authorities and stakeholders to take forward the actions set out in the recently published Town Centre Position Statement."
Cllr David Selby, Powys County Council's Cabinet Member for a More Prosperous Powys, said: "We are committed to working to tackle the economic challenges currently facing both our communities and businesses. It is vital that we support our town centres, ensuring they remain relevant and resilient - now and into the future.
"The Transforming Towns programme will help us achieve this and I'm delighted that town centres in the region are continuing to benefit from this investment, ensuring our beautiful mid Wales towns are revitalised and remain a thriving place to live, work and visit."
Cllr Clive Davies, Ceredigion County Council's Cabinet Member for Economy and Regeneration: "Already a number of developers have benefited from this grant intervention to support regenerative projects in our towns. With this additional £100m, the opportunity exists for further projects, from green infrastructure to commercial and residential improvements. I would ask those who are eligible with an idea for a town centre development to contact the team about the Transforming Towns fund."