Bus travel simplified across North Wales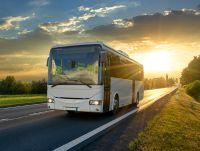 14 June 2023
A single ticket scheme that aims to simplify bus travel has been introduced across north Wales.
The 1Bws initiative allows passengers to travel throughout the north of Wales using a single ticket across multiple services and with no extra cost. Included in the 1Bws scheme is the TrawsCymru T12, T2 and X28 services, which runs within Powys.
Powys passengers boarding the T12, T2 and X28 services will be able to benefit from the new 1Bws scheme, if they wish to use a single one-day ticket for unlimited travel further afield across north Wales.
The existing Powys Day Rover Ticket is also still valid on most local bus services within the county.
Another Transport for Wales initiative known as 'Tap on, Tap off' allows adult passengers to use a contactless payment method to easily pay for their 1Bws ticket. By tapping their contactless card or device on the ticket machine when they get on and off the bus, the single fare for the journey is calculated. As multiple journeys are made, the fare is capped, ensuring they will never pay more than the price of a 1Bws ticket.
TrawsCymru service T12 is operated for Transport for Wales and Powys County Council by Lloyds Coaches and Tanat Valley Coaches. With the introduction of the 1Bws scheme, the T12 fares are being co-ordinated to ensure both operators charge the same rates for the same journeys and that tickets are inter-available between them. This will mean that a small number of individual fares may increase slightly, while others may decrease, but fares for all journeys will be charged at the same rate per mile.
"Traveling by bus is very environmentally friendly, it can be great way to enjoy getting out and about without the stress of having to drive yourself. Our beautiful countryside will be seen differently from the bus a completely new vista spread out in front of you." Says Cllr Jackie Charlton, Powys County Council Cabinet Member for a Greener Powys.
"Working together with Transport for Wales, transport providers and neighbouring authorities, it is great to be able to offer North Powys bus passengers the opportunity to easily purchase day-tickets to explore our beautiful county and beyond."
For more information on bus fares, the 1Bws scheme and the 'Tap on, Tap off' payment method, please visit: https://www.traveline.cymru/bus-fares/