Cabinet to consider Ysgol y Cribarth objection report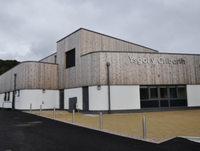 14 June 2023

Welsh-medium education could be introduced at a south Powys primary school if given the go-ahead by Cabinet later this month, the county council has said.
Powys County Council wants to move Ysgol y Cribarth in Abercraf along the language continuum by formally establishing a Welsh-medium stream at the school.
The school is currently an English-medium school providing education for pupils aged 4 to 11.
Since September 2021, Ysgol y Cribarth has operated a Welsh-medium Foundation Phase class on a pilot basis as part of a scheme that has been supported by the council.
The proposed change would see a Welsh-medium stream formally introduced at Ysgol y Cribarth from September 2023, operating alongside the school's English-medium stream.
The proposal will help the council deliver one of the aims in its Strategy for Transforming Education, which is to improve access to Welsh-medium provision across all key stages. The strategy was updated in July 2022.
Earlier this year, Cabinet gave the go-ahead for a statutory notice to be published formally proposing the change, which was published in April. During the statutory notice period, one objection was received.
On Tuesday, June 20, Cabinet will receive and consider the objection report and will be asked to approve the proposal to make a regulated alteration to formally establish a Welsh-medium stream at Ysgol y Cribarth from September 2023.
Cllr Pete Roberts, Cabinet Member for a Learning Powys, said: "Establishing a Welsh-medium stream at Ysgol y Cribarth will ensure that all pupils in the area would have the opportunity to choose this provision, which would give them the opportunity to become fluent in Welsh and English and therefore contributing to the Welsh Government's aspiration to achieve a million Welsh speakers by 2050.
"It would also support the council's aims and aspirations as outlined in the Welsh in Education Strategic Plan (WESP) for 2022-32 and the Strategy for Transforming Education in Powys."
To find out more about Welsh-medium education in Powys, visit Destination bilingual.
For more information about Transforming Education in Powys, visit Transforming Education.