Powys thanks youth workers during Youth Work Week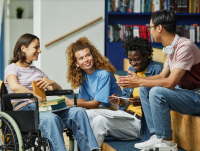 28 June 2023
Youth workers in Powys have been thanked by the county council for the invaluable contributions they make in supporting the county's young people.
Powys County Council has thanked its youth workers during Youth Work Week, which celebrates the impact and diversity of youth work across Wales and aims to promote a wider understanding of and support for youth work.
Engaging with young people aged 11-25, the county's youth workers have all been steadfastly supporting and empowering young people throughout these trying times.
Cllr Sandra Davies, Cabinet Member for Future Generations, said: "The tireless efforts of our youth workers have been pivotal in providing guidance, mentorship, and essential services to the youth of Powys.
"Their unwavering commitment to the well-being and development of young individuals is commendable, particularly in the midst of the current difficult and stressful cost of living crisis.
"We are immensely grateful to the youth workers who continue to invest their time and energy into the youth of Powys. Thank you."