Local Government and Finance Minister visits north Powys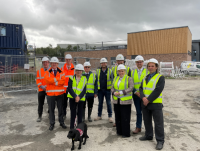 10 July 2023

A key government minister has visited north Powys to see how the county council is delivering public services thanks to Welsh Government funding.
Rebecca Evans MS, Minister for Finance and Local Government was shown round a number of projects in and around Newtown that have benefited from Welsh Government funding. The visit was organised by Powys County Council.
The Minister was accompanied by Cabinet Members and officers from the council during her visit, which took place on Monday, July 3.
As part of the visit, the Minister visited Abermule Business Park where she was given a tour of the new bulking facility which will ensure that the council delivers sustainable and efficient recycling services.
The Minister was then shown round one of the units at the business park which is occupied by Custom Marine Developments.
Part of the Makefast Group, the company creates bespoke products of the highest quality and engineering standards for the superyacht tender market. The development of the business units was in part supported by Welsh Government funding that has not only helped to establish new business opportunities but also keep this work in the area.
The Minister then headed into Newtown to see several projects that have benefited from Welsh Government funding including active travel infrastructure improvements, the town centre improvement works on High Street and the Y Lawnt housing development before stopping outside the Hafan yr Afon community and visitor centre.
Newtown Library was the penultimate stop of the where staff showed the Minister around the library and spoke about the services it provides to residents and the onsite ICT enhancements to the user experience that have been introduced following the award of grant funding.
The final location of the Minister's visit was the new school build for Ysgol Cedewain. The new build, another project part-funded by the Welsh Government, will replace very poor accommodation at the current Ysgol Cedewain school, and will include facilities for very vulnerable learners, including a hydrotherapy pool, sensory and physiotherapy rooms and garden as well as a community café.
Cllr James Gibson-Watt, Leader of Powys County Council, said: "We're delighted that we were able to show the Local Government and Finance Minister a number of projects that have taken place in and around Newtown thanks to funding from the Welsh Government.
"We would like to thank her for taking the time to come to Powys to see how these projects are improving the way we deliver public services."
Rebecca Evans MS said: "It is always good to see how Welsh Government funding is changing and improving our towns and local areas, and their facilities. The Abermule Business Park and Hafan yr Afon community centre are very different places, yet both are equally positive examples of where good investment can help an area thrive.
"Partnership working is integral to regeneration and growth, and Powys County Council's recent developments are a great example of valuable change, now and for the future."