Business Reception at the Royal Welsh Show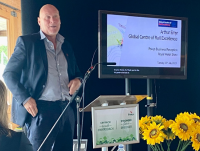 26 July 2023
Business leaders from all over Powys attended a business reception at the Royal Welsh Show hosted by the Powys County Council to learn about key initiatives in the county.
During the presentation Cabinet Member for a More Prosperous Powys, Cllr David Selby outlined key initiatives under the Council's Corporate Improvement and Equalities Plan - Stronger Fairer Greener.
He outlined investment and projects under the Levelling Up Fund, UK Shared Prosperity Fund, Brilliant Basics and Transforming Towns.
"The reception highlights the importance of working with business throughout Powys to deliver a More Prosperous Powys. The Council is committed to delivering key developments across the county to help strengthen the county's economy," he said.
The reception also included a celebration of the success of the Powys Business Awards by Ceri Stephens, Mid Wales Manufacturing Group, including a presentation from the Managing Director of Wipak, Andrew Newbold - winners of the 2022 award.
Guests also heard from Arthyr Emyr from the Global Centre of Rail Excellence project on the opportunities for businesses of the £400m private/public sector project for a rail testing centre and associated infrastructure on the Powys border near Ystradgynlais. Organisations interested in opportunities were advised to register on Sell to Wales website and join their 'Supply Chain Community' mailing list on gcre.wales.
The session ended with a presentation from the County Council's Procurement and Economic Development services on opportunities for businesses and working with the council on major projects.
If you would like more information, please email regeneration@powys.gov.uk
PICTURE: Arthyr Emyr from the Global Centre of Rail Excellence.