New Flying Start and childcare site for Brecon now open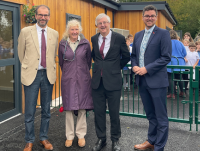 29 September 2023
A new childcare setting in Brecon has been opened by First Minister of Wales, Mark Drakeford.
The new setting which opened its doors to families earlier this month will provide high quality, free Flying Start childcare for two-year-olds and will also be used to run parenting groups and training. In addition, 3 and 4 year olds will also be able to access Foundation Learning and Childcare Offer provision from the site.
The building on the Priory Church in Wales School site has been funded by the Welsh Government as part of a commitment to expand free childcare to all two-year-olds. They have provided a Flying Start capital grant of £720,000.
The new setting called Enfys Fach Nursery also has a small multi agency office and a contact room where professionals such as Health Visitors and Speech and Language Therapists can meet families.
Mark Drakeford who visited the site yesterday (on Thursday 28 September) said: "High-quality early childhood play, learning and care are important in ensuring that every child has the best start in life and enjoys learning, expands their knowledge and fulfils their potential. 
"Flying Start has provided extra early years support to thousands of children across Wales, which is why we've committed to extend the programme so even more children can benefit.
"It was great to meet the children, staff and families, and see the fantastic support here at Enfys Fach."
Powys County Council's Cabinet Member for Future Generations, Cllr Sandra Davies said: "We were delighted to welcome the First Minister to our new Flying Start site.
"The new site in the heart of the community is enabling children, young people and their families to access services in one place. It provides childcare as well as office space for key practitioners and it's good to see these early help services all working together to meet families' needs."
Powys County Council's Deputy Leader, Cabinet Member for a Fairer Powys and Chair of Enfys Fach Nursery Trustees, Cllr Matthew Dorrance said: "The new Flying Start centre is an exciting development for our local children and families. I'm really pleased they can now start to get the full benefits of this significant investment."
The playground on Pendre Field next to Priory Church in Wales school in Brecon opened last year and is being enjoyed by local children and families. Welsh Government Flying Start and Brecon Town Council funding was secured to support the play space project.
The playground has an enclosed area for 0-4 year olds, with inclusive equipment to enable children to develop their physical skills and creativity. This area will also act as an extended outdoor space for the newly opened Flying Start setting.
Families can find out if they are eligible for Flying Start here Flying Start
Families can follow @Powys Flying Start/Dechrau'n Deg Powys on Facebook for update messages.