Dementia friendly communities
In Powys today, communities are pulling together to tackle the stigma around the disease by raising awareness through Dementia Friends sessions led by volunteer Dementia Friends Champions.
This involves giving people a greater understanding of dementia and showing them the importance of doing very simple and practical things to accommodate it in everyday life. In turn, this then gives those living with dementia as much independence and dignity as possible whilst supporting them and their carers to live well and contribute to the community.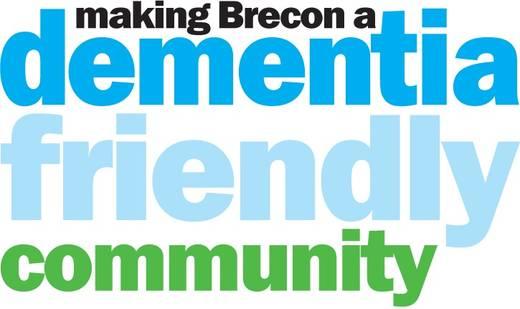 Working with the Alzheimer's Society, communities are taking major steps to become Dementia Friendly. A Dementia Friendly Community is made up of the whole community:
shop assistants,
public service workers,
faith groups,
businesses,
police,
fire and ambulance staff,
bus drivers,
school pupils,
clubs and societies,
community leaders - people who are committed to working together to help those living with dementia to remain part of their community.

One town at the forefront of challenging the myths and stigma around the disease is Brecon.
In an initiative led by volunteers, Brecon is actively seeking to increase awareness and understanding, support and promote social inclusion. Most importantly they will give a voice to people with dementia and their carers so their needs can be fully recognized and the appropriate support offered.
On 14th August 2014, in recognition of the work taking place, Brecon received official 'Working to become Dementia Friendly' status from the Alzheimer's Society. It was the first community in Wales to be acknowledged in this way; a reflection of the community's caring nature.