Accessible outdoor routes and accommodation
We've worked with the charity Disabled Holiday Information to publish the Accessible Powys guides. The aim of the guides is to make Powys more accessible for people who need easier access, whether they are wheelchair users, parents with small children and people with limited walking ability.
Accommodation guide
The guide gives an insight into the wide variety of accessible places to stay in Powys. By combining it with the useful info on the Disabled Holiday Information website, we hope it will help people who need an accessible place to stay to have a better holiday.
Every place included has been visited and assessed for accessibility by one of the DHI research teams. Each team is made up of people with easier access needs, including a wheelchair user. All places to stay featured will have at least one wheelchair accessible entrance, one accessible bedroom and a wet-room/level access shower. Please note that whilst we have tried to make sure that these places to stay will meet most people's access needs, we strongly advise you to call your chosen place to stay in advance to discuss your exact needs.
Trails guide
This guide contains details of various sites and trails that are suitable for people needing easier access. This brochure is not designed to be a guide to each area, but to give visitors an insight into the wide selection of accessible countryside sites on offer in this county. Please note that the Disabled Holiday Information web pages for Powys have more detailed information, which is updated regularly.
Accessible Activities
The Accessible Activities Guide launched in March 2014. The guide highlights activities across the county that are suitable for people with easier access needs. This includes people with long-term, lifestyle inhibiting medical conditions or disabilities, older people and families with children. Powys is a place where you can get out and about and enjoy a huge range of activities, no matter what your personal circumstances.
A series of promotional videos have also been created, which showcase a number of the activities in the guide.
Rock Park
The Rock Park was established in the nineteenth century as a recreational area when the town attracted many visitors who came to 'take the waters' from its natural springs. Today, the Rock Park is listed as Grade 2 in the Cadw Register of Historic Parks and Gardens in Wales.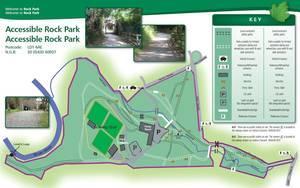 The 12 acre park has lovely streams and wooded areas with some good accessible paths and bridges. Because of the nature of the landscape within the park, some of the paths are steep and not accessible to all. This map will show you how you can access the many different corners of the park; from the Chalybeate Spring to one of the stunning views out over the River Ithon and the path to Lover's Leap.
Parking: Level parking is available between the Pump Room Car Park and the Bowling Club Car Park.
Toilets: Please note there are NO ACCESSIBLE TOILETS in the park, the nearest are at the Railway Station site on Station Crescent, approx. 5 minutes drive away (RADAR).
All Ability Cycling
Visitors to Powys can now hire electric bikes, tandems and disabled accessible bikes from hubs in prominent locations at Elan Valley Visitor Centre and Drovers Cycles in Hay on Wye.
For more information, please go to the Powys all ability cycling page.
You can report any cycle way fault here Report a problem with a cycle route
These guides were funded by: