Your ceremony
You'll need two witnesses for your wedding or partnership. These witnesses should be 18 years old or over. If you're using an interpreter, they will also have to act as a witness.
As our Registrars normally carry out several ceremonies on the same day please note that if you are late for your ceremony it may have to be cut short to make sure the Registrar has time to travel to their next appointment.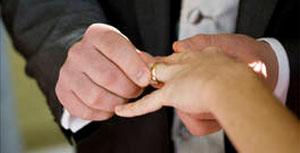 If you wish your marriage or civil partnership to take place in Welsh, please contact us so that we can arrange for Welsh speaking Registrar.
Book your celebration Book a ceremony
From 10 December 2014 it is possible to change your Civil Partnership into marriage. To arrange this, please call the Registration Office in Llandrindod Wells who can make an appointment at any of the offices in Powys on your behalf.
You will both be required to sign a declaration at the time of the appointment agreeing to the change and once it has been registered, a marriage certificate will be issued.
You will need to produce the following documents:
Valid passports
Proof of residence (eg utility bill, bank statement etc) for each partner
Your Civil Partnership certificate