War memorials in Powys
Powys War Memorials Project 2014 - 2019: A Mark of Respect.
Powys County Council secured funding from the Heritage Lottery Fund, Cadw (the Welsh Government's historic environment service) and the Brecon Beacons National Park Authority.
The project commemorates the centenary of World War 1 and will run until October 2019.
Some of the aims of the project are to:
Find, record and map all the war memorials in Powys.
Provide funding (up to £5,000 per memorial) for World War 1 memorials in Powys to be repaired, restored or maintained.
Provide funding (up to £200 per memorial) for the setting around the memorial, e.g. railings or paving slabs.
Facilitate or organising free training for communities in Powys, e.g. about how to research names on war memorials.
Work with communities in Powys to develop World War 1 walks and trails.
Organise and facilitate World War 1 events and activities, such as film screenings or musical performances.
Support other World War 1 programmes, projects and initiatives.
Use our toolkits to help you: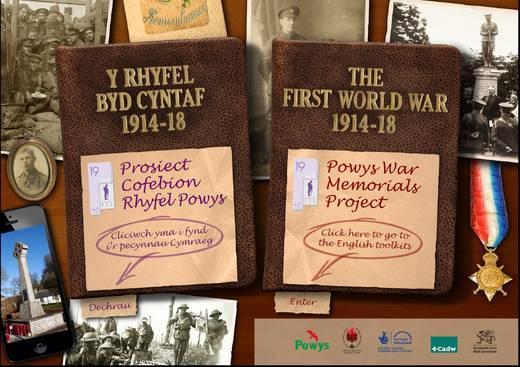 Start to investigate the names listed on war memorials - who they are and what are their stories?
Help to commemorate the centenary of the First World War
Make a detailed record of war memorials in your community
Find out how to record and look after war memorials
The toolkits are provided by Powys County Council War Memorials Project 2014-2018: A Mark of Respect. The Project is funded by the Heritage Lottery Fund, Powys County Council, Cadw and the Brecon Beacons National Park Authority.
Please contact the war memorials project officer for more information.
Contacts
---