How can I access the funded childcare?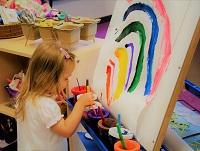 Coronavirus (COVID-19)
Follow this link for specific Coronavirus related advice and support regarding the Childcare Offer for Wales
When can I apply for the Childcare Offer?
Child's Date of birth:

1 September 2017 - 31 December 2017. Applications open - 16 November 2020

1 January 2018 - 31 March 2018. Applications open - 8 February 2021

1 April 2018 - 31 August 2018. Applications open - 5 July 2021
Can I use more than one childcare provider?
Yes you can use up to TWO registered childcare settings per day in addition to their FPN setting in any given day.

List of providers of the Childcare Offer for Wales for Powys families. [163KB]
Can I accrue my hours?
No. Accruals / banking system will not be in place from September 2018 across the pilot areas. Parents will be provided with a total of 30 hours a week of combined FPN provision and childcare with parents choosing how much of the 30 hours to take up. Any hours not used in a week will be lost.
How will the offer work outside of term time?
The childcare offer will cover up to 48 weeks per year. Foundation Phase Nursery Provision is available for up to 39 weeks per year, therefore eligible parents will be able to access 30 hours of childcare for the remaining 9 weeks of the year.
Eligible parents can access their 9 weeks of holiday provision whenever they choose. However, it is the parent's responsibility to find a provider that offers the provision that best suits their needs. For the purpose of the pilots parents will need to access their provision in week long blocks. Hours of childcare cannot be accrued across weeks.
Contact
Email: fis@powys.gov.uk
Phone: 01597 826246
Address: Family Information Service (FIS), Powys County Hall, Spa Road East, Llandrindod Wells, Powys, LD1 5LG
---