Quick budget overview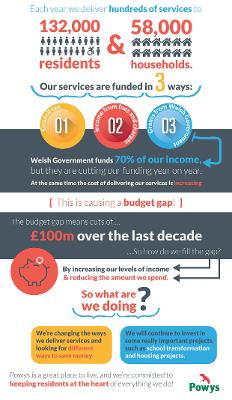 Each year we deliver hundreds of services to 132,000 residents and 58,000 households.
Our services are funded in 3 ways:
Council Tax.
Income from fees and charges.
Grants from Welsh Government.
Welsh Government funds 70% of our income, but they are cutting our funding year on year.
At the same time the cost of delivering our services is increasing.
This is causing a budget gap.
The budget gap means cuts of £100m over the last decade.
So how do we fill the gap?
By increasing our levels of income and reducing the amount we spend.
So what are we doing?
We are changing the ways we deliver services and looking for different ways to save money.
We will continue to invest in some really important projects, such as school transformation and housing projects.
Powys is a great place to live and we're committed to keeping residents at the heart of everything we do!

Download infographic here [1MB]

The pdf documents on this page comply with accessibility standards