Volunteer Litter Picking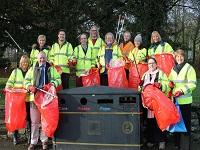 We're working in partnership with Keep Wales Tidy to provide litter-picking kits from designated hubs across Powys (our Machynlleth, Welshpool, Newtown, Knighton, Llandrindod, Brecon and Ystradgynlais libraries).
Each kit contains:
litter grabbers
refuse and recycling bags for collected materials
bag hoops to help keep the bags open in the field
hi-vis vests to keep our hero volunteers safe when out and about
Using the form below, you can request a kit from your nearest participating library, and we'll liaise with them to confirm the kit is free on your requested dates and let them know you're coming. Please read through the

guidance document [1MB] carefully, as you'll need to declare you've understood it before we sign out the kits to you. It includes handy hints on roadside safety, wildlife and more.
Please make every effort to return the kit by the date you specify to help ensure that we keep the loaning service running smoothly, and maximise the amount of groups that can do their bit to keep Powys looking amazing!
Lastly, when you've finished your litter pick, please use the second form below to let us know how you got on. We'd love to know what area you covered, how much material you collected, where it is (so that we can pick it up), and if there were any other problems you encountered on your travels; whether fly-tipping, dog fouling, or anything else of concern.
Happy litter-picking!