Apprenticeships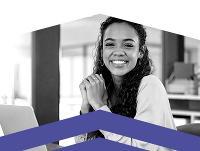 An Apprenticeship is a practical way of gaining a nationally recognised qualification and the much needed job-related skills, whilst working in a real work environment.
There are four levels of Apprenticeships that relate to different job roles:
Foundation Apprenticeships: there are no fixed academic entry requirements for foundation apprenticeships. However, some vacancies and standards may identify the value of relevant work experience, and subjects studied that would give students useful understanding prior to starting the apprenticeship. These may be Level 2 Certificates, Diplomas, or NVQs, as well as GCSEs.
Apprenticeships: these vary, but you may be expected to have completed a related Level 2 apprenticeship, Diploma or BTEC, or to have between three and five GCSEs (A*-C) or equivalent.
Higher apprenticeships: usually require relevant Level 3 qualifications, such as two or more AS/A levels, or related Diplomas or NVQs, as well as GCSEs (A*-C) or equivalent.
Degree apprenticeships: you'll be expected to have at least two A levels. Entry requirements vary, depending on the degree and apprenticeship job role you apply for. Specific subjects and grades may be set by the employer and university/college offering the degree apprenticeship.

Become part of our apprenticeship pool!
If you would like to become part of our apprenticeship talent pool and be contacted directly by the council should a suitable apprenticeship position at Powys County Council arise, please complete our application which can be found here.
To see if there are any current apprenticeship vacancies at Powys County Council please visit our recruitment website and search apprenticeship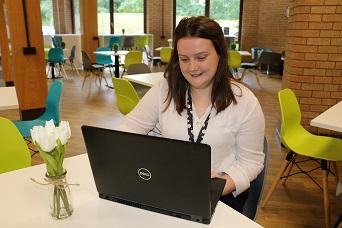 "I've been an apprentice in the Culture and Leadership team in the council for 6 months now, and it's been a fantastic experience so far.
I'm really pleased I decided to take the apprenticeship route, I remember this time last year I had just received my A Level results, and I had that anxious feeling of what to do next. But, shortly after I found this opportunity and I haven't looked back.
The training and support the team have given me has been excellent. I have joined the Digital Support Group, where I have met lots of staff across the council and learnt some great new skills.
One of my roles is to promote jobs through social media. It's been so rewarding to see our Facebook page grow and reach over a 1,000 likes already. If you're interested in job opportunities in the council, why not like our page? Find us at: @PCCJobs.
I have made great progress with my Business Admin Level 2 qualification, I have done 12 units so far, and only have 4 units left to go this year. I'm really enjoying the balance of learning on the job while working towards a recognised qualification.
The next few months will be exciting, I'm going on a video skills training course and hoping to explore the use of video and Twitter to promote jobs further. I'll keep you posted on how it goes in my next blog, in the meantime keep a look out for my new content on social media."

@PCCJobs
Jess Watson, Apprentice - Workforce and Organisational Development