Electric Vehicle Charging
Locations
'Fast' electric vehicle (EV) charging is currently provided by Powys County Council in various different Pay and Display car park locations across the county. There are two charge points in each car park, with each charge point having two charging sockets, allowing four vehicles to charge simultaneously at each location.
Current locations of electric vehicle charging points: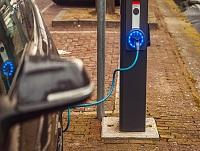 Live now:
Maengwyn Street Car Park, Machynlleth, SY20 8DY
Mount Street Car Park, Llanidloes, SY18 6BZ
Hereford Street Car Park, Presteigne, LD8 2AT
High Street Car Park, Llandrindod Wells, LD1 6BG
The Groe Car Park, Builth Wells, LD2 3BL
The Watton Car Park, Brecon, LD3 7ED
Church Street Car Park, Welshpool, SY21 7DD
Back Lane Car Park, Newtown, SY16 2NH
Further information on electric vehicle charge locations can be seen at www.zap-map.com/live
Type of charging
All Powys County Council's public electric vehicle charging is provided by IEC 62196 Type 2 sockets with the charging cable provided by the user.
The 'fast' charge points operate dynamic load management and are capable of fully charging an electric vehicle in three to four hours, dependent on the type and number of vehicles plugged in at the time.
How to use the charging points
The electric vehicle charge points are all owned by Powys County Council and are on the Dragon Charging Network.
All charge points require users to have an account with either Dragon Charging or Genie Point to access the connection. To create an account please go to www.dragoncharging.co.uk/my-account/
Users simply plug in their vehicle and start charging by either using the web-app on a smartphone or with a RFID card registered to the user's account. RFID cards are obtainable from Dragon Charging or users can register an existing one with their Dragon Charging account.
Charges
The current charges* including VAT are:
£0.85 connection fee: (one off payment for each connection), and
£0.25 per kWh of electricity used
An example: - a 60kWh electric car would cost £15.85 to charge fully charge from empty batteries.
Please note: The charge points are all located within long stay Pay and Display car parks. The relevant fee will also need to be paid to cover the duration that a vehicle is parked in the car park. Please remember to Pay and Display.
Car park charges can be found at our car park charges page
*Charges may be reviewed from time to time
Further information
These electric vehicle charge points are provided by Powys County Council for the benefit of residents and visitors to facilitate the transition to a low carbon future. This project was funded by The Office for Low Emission Vehicles (OLEV) and Powys County Council. The project was delivered by Powys County Council and Silverstone Green Energy.
The www.dragoncharging.co.uk network is a regional network also being used by other Welsh local authorities such as Carmarthenshire, Ceredigion and Pembrokeshire. Your feedback is welcome, please email parking@powys.gov.uk.