Universal Credit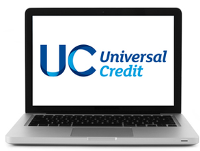 Universal Credit was introduced in Powys from 10th October 2018. If you or your partner are of working age and need to apply for benefit you must apply for Universal Credit.
There are some exceptions, who will need to claim Housing Benefit (otherwise known as a legacy benefit):
if you live in Supported Accommodation
if you live in Temporary Accomodation
if you are entitled to receive a Severe Disability Premium
If one of you is pension age but the other is working age. These are called "mixed age couple".
If you fall within one of the above exceptions you can still claim Housing Benefit
If you are liable to pay Council Tax you will STILL need to apply for assistance with that through Powys County Council, this is not covered by Universal Credit. Apply for Council Tax Reduction
From 01/2/2019 people with more than 3 children can now claim Universal Credit.